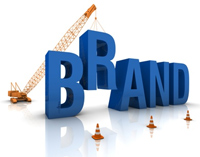 Building your brand is perhaps the most important aspect of marketing and growing your small business.
It's proven time and time again that businesses who invest the resources to build their brands are able to build incredible customer loyalty and reap great rewards. Just look at the big brands such as Coca Cola, Nike, Disney, and Apple. These companies invest a big part of their marketing budget on building their brands and have incredible customer loyalty as a result.
Unfortunately, most small businesses ignore this important business strategy.
The Recipe for Building a Successful Brand
By taking the steps to build your brand, you leave no doubt on customers' and prospects' mind what your business and brand represent and the kind of experiences they will get when they do business with you.
Studies after studies have shown that customers make buying decisions based mostly on emotions. People like to do business with people whom they like and trust. If you can stir people's emotions and delight them with great experiences, they will surely want to do business with you for a long time.
Furthermore, your loyal customers will also become your most passionate brand ambassadors. They will want to spread the good words about your business to all their friends and family members. "Words of mouth" marketing is the best form of marketing!
Are you ready to build a rock solid brand? Follow the steps below:
1. First, determine what is special about your business
What's your value proposition? How do your products or services improve people's life or make their life better? What promises does your brand make to your target market? What can you do that is better than the competitors? What do you want your customers to say about you?
Write down a short summary that covers all these points. Your goal is to come up with a brand message and promise that clearly conveys your value proposition and clearly distinguishes you from the competition.
Once your brand's value proposition, position, and brand promise is clearly defined, make sure all your employees and staff are trained so that everything about your business aligns with your brand promise.
This is very important! In the end, you want your brand to stand apart from the competition and leave a strong impression on the customers as well as prospects when they do business with you.
2. Do you have a logo for your business?
No matter how small your business is, it is still necessary for you to have a professional looking logo that represents your business well. It's worth it! Nowadays, you can find a great designer on Craigslist to design a great looking logo for you for less than $200.
Your logo could be a combination of a symbol or an image with text or it could be just text based. Be sure to keep the design of your logo simple, memorable, and meaningful. If you could, it is recommended to also have a short and punchy tagline that conveys a memorable message about your brand.
Lastly, use a maximum of 2 colors. Once you have a logo, you can use it for your website, business card, brochure, and other marketing collaterals.
3. Do every parts of your business operations support your value proposition?
Analyze all aspects of your business and ask yourself if every parts of your business support support your value proposition or not. Going one step further, what can you do at every aspect of your business operations to enhance the customer experiences?
This include the layout and decoration of your storefront, how your staff greet and treat your customers as well as visitors, your return policy, the quality of your products and services, etc. Even the little things you do can brighten a customer's day and convert him/her into your loyal customer.
4. Maintain consistency in your image and the experiences that you provide to your customers
Establishing consistency is very important as it helps to etch into memory what your customers think of your brand.
5. Tell your brand story
People love a good story. As such, you should have a compelling story for your brand. How did you get started in your business? What made you to want to start your business in the first place. How do you plan to change people's lives with your products or services? Have it ready and when the opportunity arises, you can tell a compelling brand story to your clients, prospects, or partners.
Stay Committed to Building Your Brand!
If you commit yourself to building a strong brand for your business and be consistent on delivering remarkable experiences, your customers will always think of you first everytime they have a need for your products or services. Isn't that powerful? Remember that the promises you make for your brand should match the experiences that customers will have when they do business with you.
I hope the above tips will inspire you to take the necessary actions to build a strong brand for your business starting today. In future posts, I will guide you on to use free online promotional methods to build awareness for your brand. Stay tuned!