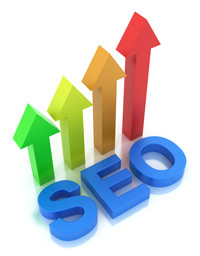 Having a great website is useless if no one can find it.
One of the most common ways people discover new websites is through search engines such as Google, Yahoo, and Bing.
The key is to have your website appear on the 1st page of the search results as most people don't look at results beyond the 1st page. To get your small business website appears on the first page of the search engines such as Google, you would have to do some SEO, which stands for Search Engine Optimization.
If you manage to get your site on the top 3 positions of the Google search result page for your targeted keyword, your site could potentially get flooded with visitors wanting to buy from you. AND IT COSTS YOU NOTHING TOO!
Some people make SEO to be some rocket science stuff. It's far from the truth! SEO is quite straight forward. However, it does require time, commitment, and a rock solid strategy to get good rankings for your website.
SEO has 4 components:
Building original and remarkable content
Doing On-Page optimization
Link Building
Amplifying the Social Media Signals
User experience
I'll discuss in details how to optimize for the above 4 components below. Read on….
Creating Original & Remarkable Content For Your Site
On the internet, content is king. But not just any content though. Your content must be original, compelling, relevant to your target audience, and adds value. This is very important for SEO!
To make your content more compelling, you should mix your text content with relevant videos and images/photos.  In addition to the content for your home page and the basic products/service pages, you should create a library of educational and informational articles on your site.
Tutorial and "how-to" articles that teach people how to do their jobs better, how to ease their pain points, how to do something more efficiently or better, or how to improve their lives are always appreciated by your audience.
The more content you can produce, the more opportunities for your website to get found when your prospects do a search on the search engines. Adding a blog is an easy and effective way to add fresh content to your site. Be sure to do your keyword research so you can create content around keywords that have high number of searches and are relevant to your target audience and your business. 
Think of the questions that occupy your target audience's mind when they are in the process of researching for answers and solutions to the problems that are bothering them. You can then create blog articles around the topics and questions that concern your target audience.
Additionally, write using a conversational tone and use simple, lively, clear, easy to understand languages that have emotional appeal. Avoid jargons and corporate languages that are dull, rigid, and boring!
Again, I can't emphasize the significance of creating high quality, unique, and compelling content enough. Content is the foundation of SEO. By having great content, it just make your other SEO efforts such as link building and social promotion a lot easier.
You don't have to create the content by yourself all the time. If you have other people with expert knowledge in your company, you should get that person to contribute to the content creation efforts. Alternatively, you could interview experts or hire outside help to create the content for you.
How to Do On-Page SEO that Satisfy the Search Engine Spiders
On-Page SEO involves doing the things that are on your web page to help the search engine spiders understand what your content is about and what keywords your content are relevant for. If you are in a field that has little competition, doing basic on-page SEO alone could significantly boost your rankings!
Here are the step-by-step plan to do the On-Page SEO:
Determine the keywords that are appropriate for your business. Think about the kind of words or phrases your prospects may type into the search engine to find your business or your offers. Be as specific as possible and focus more on transactional keywords (keywords that lead to a "buy" decision as opposed to research oriented). If you own a local business, it is very important to include your location as part of the keyword phrase. For example, if you are a DUI lawyer in downtown Denver, your keyword phrase could be, "DUI lawyer in downtown Denver area". For location keywords, you can use names of towns, states, counties, metro areas, communities. Be as specific as you can when it comes to the keywords. You can use the free Google keyword research tool to do your research. The keyword tool will tell you the number of searches per month the keyword phrase and its related keywords have. Of course, the higher the number of searches the better. But you'd have to also check the level of competition on the first pages to make sure that the keyword you choose is not too competitive.
Incorporate the keywords into the Meta Title Tag, The meta Description tag, in the ALT tag of the images, and on the H1, H2 header tags.  The title tag is the most important component of on-page SEO. So, make sure you have the keyword phrase that you want to rank for positioned at the beginning of the title tag. Keep the title tag under 65 characters. Although the description meta tag isn't part of the ranking algorithm, it's still important to write a compelling description to attract high click through rate. Keep the description under under 155 characters (spaces included) and clearly explains the the page is about with a call to action. Lastly, you should sprinkle the keywords throughout the body of your content. You don't necessarily have to repeat the exact keyword phrase throughout your page. In fact, it's better to use a few different variations of your keyword phrases throughout the content of your web page. Lastly, you should focus only on 1 keyword phrase per page.
Write a compelling and unique content that describes exactly what you do, what services/products you offer, what kind of problems you solve, and how your products/services benefit your prospects. Be sure to mention your keyword phrase a few times in your writing. Also, make sure that it's readable. Don't write long paragraphs. When reading online, people scan, they don't read. So, use easy to understand language, short paragraphs, lots of bullets, and headlines/subheadlines as necessary.
Get your web pages indexed – Once you are finished with creating all the pages on your website and you have done the on-page optimization, you must let the search engines know of your website and webpage's existence.The best way to get your website and webpage indexed by the search engine is to get links to each of your main web page. To get links to your web page, you can bookmark each of your web page using bookmarking services such as digg.com, mixx.com, or furl.net, create an ad on Craigslist.org and make a link to your web page or get a link to your web page from another website.
Make sure each page of your website is optimized with its own unique keyword phrase. Don't just use the same keyword, same Meta Title Tag, same Meta Description Tag for your home page as well as your service or about us pages. For each page, you should use different keyword phrase and incorporate that keyword phrase in the title tag, meta description tag, headline, and in the body copy of that particular page.
Finally, make sure your site is structured logically using proper hierachy and that keywords are incorporated in the URLs. I.e. Instead of www.JoeSmoAttorney.com/page2.html, it should be www.JoeSmoAttorney.com/dui-service.html.
The Right Way to Do Link Building to Avoid Being Penalized by the Search Engines
Although doing the on-page SEO efforts is a good start, the key to boosting the ranking of your web pages is to attract lots of natural and high quality links from websites that have high authority and are related to your business.
A link to your site is like a vote of confidence for your site. If Google believes your web page to be a high authority and high quality web page for the particular keywords that the searchers are typing in the Google search box, your web page will have a high chance of appearing on the 1st page of the Google search results.
The key is to get one way links from high authority and relevant websites. High authority sites are sites are established and trusted. They usually have high page ranks also.
Google uses a sophisticated algorithm to determine the PR ranking of a website. A high PR ranking usually means that the particular website is established, been around for awhile, has great content, and have other authoritative websites linking to it.
When you get links back to your web page, you'd want to ensure the anchor text of the link is the same as the keywords you are trying to optimize your web page for.
Anchor text is simply the text with the blue underlined link. For example, instead of a link that just have your website URL, it would be better if the hyperlink is something like, "if you need acupuncture treatment, you should visit Grand Acupuncture in downtown Oakland."
In this example, "Grand Acupuncture in downtown Oakland" would be the anchor text that links to the Grand Acupuncture website (i.e. www.grandacupuncture.com).
This is key because it indicates to the search engines what the topic of your web page is about and helps to optimize your ranking for the keyword "Grand Acupuncture in downtown Oakland." Don't use the same exact words as anchor texts though as that may trigger the Google spam filter (Google doesn't want you to actively engage in link building schemes). You should try different variations of the same keyword or sometimes link to your site using just your domain URL to make it seems more natural.
Google doesn't want you to engage in a link building scheme that is designed to increase your rankings. The best links are the links that earned without asking. But if you were to ask other people to link to your website, make sure that it seems natural.
Here are some popular ways to get links to your site:
Request links from partner sites or sites/blogs related to your business and industry – If there are businesses that offer complimentary services or products to your business, you can send a personal email to the owner or webmaster and ask for a link. If you find blogs or websites that are related to your business or industry, do reach out to owners, network with them, and request for a link back to your site. Be sure to explain how your website can benefit their readers.
Submit your site to high quality and relevant directories – The 2 directories which have high PR ranking and worth getting links from are www.DMOZ.org and Yahoo Directory. DMOZ is free, but the process to get your site listed usually takes longer.Yahoo charges an annual fee of $299. It is worth the money to try to get your site listed in these 2 main directories. You can also search on Google for vertical directories that are related to your business. The other 2 directories that are worth getting listed on are BOTW.org and Business.com.
Get links from school, local business organizations (Chamber of Commerce), local directories, and local blogs – For school, you may sponsor an event or offer to buy uniforms for the baseball team in exchange for a link to your site. For local blogs, you should contact the owner of the blog and ask the owner to link to your site or you can propose to write a guest blog post for their sites and link back to your site in the "about the author" section.
Web 2.0 Sites – Web 2.0 sites such as Squidoo.com and Hubpages.com allow you to create and publish your content on their sites. Within your content, you could create backlinks to your own site. Since both Squidoo.com and Hubpages.com have high PR, getting links from these domains to your site can provide a big boost to your SEO efforts.
Guest Blogging – Writing guest blog posts on blogs that are complementary to your site is one of the best methods of building links to your site. Another added benefit is that you get exposure to a new audience. If your guest blog article is really awesome, you could compel the new audience to visit your site and perhaps become your loyal customers too.  To get started, find blogs that are related to your industry and pitch your blog article idea to the blog owner. In addition, you can also use the service from myblogguest.com to find guest blogging opportunities.
Links from Social Media Networks – Social networking sites such as twitter, linkedin, and facebook, google +  allow you to list a few links in your profile.
Writing Press Releases – Writing press releases is another method of promoting your business/website and getting links back to your site. A good company to use is Prweb.com. When you submit your news releases to PRWeb, they will be indexed by search engines like Google, get sent to top news sites like Yahoo! News and placed into RSS feeds with over 250,000 subscribers which include bloggers, journalists and consumers. Additionally, PRWeb helps to generate backlinks and inbound links from other premium sites to your own website. This help build your website's credibility in the search engines. Sign up today and get 10% off your first news release!
Above are some effective and "white hat" linking techniques endorsed by the search engines.  Again, I want to reiterate the importance of building links to your website. It does take a lot of works, but it will significantly boost your search engine rankings performance if you make the efforts to work at it. You should aim to get high quality links from diversified sources and avoid unscrupulous or spamming link building techniques such as these:
Paying for links or getting links from sites that are shady or sites that are not related to your business. Paid links are against Google's quality guidelines. It's not recommended, but in some cases, it may be worth it. Just be careful, do proper due diligence, and know what you are getting yourself into!
Link exchanges with link partners that are not related to your business.
Spamming blogs and forums with generic, non value added comments.
Submitting your sites to hundreds of low quality and free directories. These are useless and could even hurt your rankings.
No doubt link building is hard work! But you don't have to do it all at once. In fact, it is best to continuously work at it here and there. This makes it seem more natural to the Search Engines. You should build links to your home page as well as to the other important pages (products, services pages) in your website. If you have a blog, you can also link from your blog articles to your homepage as well as product/service pages using relevant keywords as anchor texts.
Social Media Signals
Google as well as Bing have indicated that they will factor in the social media signals into their ranking algorithms. Social media signals include twitter tweets and retweets, Facebook likes and Facebook shares, and the newly added Google Plus.
Social media is definitely becoming more popular and useful for business. The more people tweet, facebook like, comment on your website/blog and share or talk about your business or website on social media channels, the more relevant your site becomes.
Here are some tips to participate:
Make sure you have social media sharing features on your web pages (i.e. facebook like, twitter tweets, google +, stumbleupon). Encourage your visitors to "like", "tweet", and share your content.
Promote your content on twitter, facebook, linkedin, and other related blogs and social networking sites.
Establish your presence on social media by creating profiles for your business on the main social media sites such as twitter, linkedin, facebook and  engage with people on these social networks.
Improving User Experience
In recent years, user experience is becoming an important factor that contributes to the search engine's ranking algorithm. If your site provides poor user experience to your visitors, this could hurt your rankings. Search engines measure user experience based on data such as the bounce rate and how engage they are when they are on your site.
Here are the factors that affect user experience:
Site loading speed – If your site has many large images and are full of Javascripts, this could slow down the loading time. You can use this free Google tool to measure the speed of your site load.
Layout and presentation of information – Does your site look professional and trustworthy? By using the right color scheme, high quality images,  good layout, ample white spacings, and proper formatting, your site will look more professional and trustworthy. Check out this blog post to learn how you can improve the user experience on your site.
Use intuitive navigation and architecture – Is your navigation clear and intuitive? Your site architecture and navigation should be designed in a way that help visitors to find the desired information as easily and quickly as possible. Stick to common web standard and convention.
SEO is Hard Work!
If you have read this far, I hope I haven't gotten your head spinning. No doubt, SEO is hard work! Now, if you don't have the time, you can always hire an SEO expert to do SEO and link building for you. Just be sure that the SEO company or consultant follow "white hat" and ethical SEO practices!
Also, having a good keyword/SEO tool such as Market Samurai can be a big boost to your SEO efforts. Marketing Samurai is a powerful keyword/SEO tool that allows you to do keyword research as well as SEO functions and analysis.
Please comment and Click on the Like Button
If you like this article or have other good SEO suggestions, please comment and click on the "like" button.