Video has become the hottest trend in online marketing for small businesses.
Video injects life and stirs visitors' emotions. As you know, people are visual and emotional. Video is great for captivating visitors' attention and helps you to create a strong emotional connection for your offerings. As a result, you will get more calls, more clicks, and more customers that want to buy your products or visit your store.
Nowadays, you have lots of low cost tools to create videos. You can use a pocket video camera such as the ones from Kodak or you can even use your phone's video camera. Don't worry too much about making it look professional and perfect, although it's important that the audio quality is too. Also, you should try be engaging and show your personality. And most importantly, just do it!
What Kind of Videos Should You Produce
Here are the different type of videos that you can make to post on your site as well as Video Sharing sites such as Youtube, Viddler, Vimeo, etc.
Welcome Video to give user a tour of your office/facility
Tell a story of how you get started in your business and what you are passionate about
Testimonials of happy clients
Product Demos to show customers the correct and best ways to use your products
Educational "how to" videos to teach and share your knowledge and experiences
Humorous and viral videos that is related to your business, products, or services.
How to use Videos
Video is great for introducing your customers to your products or store. You can use videos to give your visitors a tour of your storefront and your facility.
If you sell products or offer services, you can demonstrate how your products or services work in action. If your video is hypnotic, you have a better chance of compelling your prospects to buy your products or visit your stores.
An example of a successful video marketing campaign is Blendtec's "will it blend" Youtube video. By creating a series of videos demonstrating whether the Blendtec blender can blend certain objects, these videos quickly gained attention and popularity among the Youtube visitors and members. Thanks to the viral effect of the videos, Blendtec has quickly gained exposure for their blender products.
How to Put Video On Your Website
To put the video on your website or blog, you can have your video hosted on Youtube and just embed the JavaScript code on your website.
Youtube is free, and the quality is good enough for typical uses. To learn more about uploading videos to Youtube, check out the help section on Google.
To display the Youtube video on your website, you would need to get the code and embed that code into your website. Just click on the "share" button and the click on the "Embed" button and copy the code. Then just insert this code into your website. You also have the option of customizing the width and height.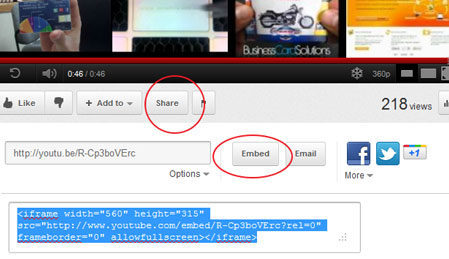 How to Produce a Video
You have myriad of tools to produce a video. The cheapest methods are to use your digital camera or mobile phone. If you want better quality video and sound, then I suggest you get a Kodak pocket video camera. Below are some popular models with high ratings on Amazon.
| | | |
| --- | --- | --- |
| Kodak Zi8 | Kodak Zx5 | Kodak Zi6 |
To add special effects and edit your video, you can use a video editing program. You can use a free one such as Imovie (for Mac) or Window Moviemaker. However, if you want to produce high quality and more professional videos, you should use a professional video editing software such as Adobe Premiere Elements (Retail at $79).
If you don't want to mess around with camera and software, then consider using Animoto. Animoto allows you to easily create amazing videos from your photos, video clips and music. They have a rich library of music for you to use.
Within 5-10 minutes, you could create a compelling slideshow video with music and nifty special effects.
Below is an example of a video made using Animoto.
SEO benefits of Video
Creating videos is a quick way for you to get found on Google. Google includes videos in the universal search results. Currently, there is little competition for videos.
So if you optimize your Youtube videos for Google Search, you have a good chance of getting your videos listed on Google universal search results when someone conduct a search related to the keyword phrase that you want to optimize for.
To optimize your video for search, follow these tips:
Include your keyword phrase in the title.
Include your keyword phrase again in the description field.
Don't forget to tag your video. Try to come up as many related keywords as possible and tag your video with these keywords.
Build some links to the URL where your video is located on Youtube. Just like doing SEO for your web page, getting some high quality links to your video could give your video a boost in the search results.
In addition, to get the most out of your video, follow these best practice tips:
Include a link to your website at the beginning of the description field so that people can click on the link and get sent to your website after they finish watching your video.
Keep the duration of your video to less than 2 minutes. People's interest seem to wane after 2 minutes.
Have a Call to Action at the end of your video. You might have something like, "Get your $20 off coupon for first time customer at www.YourBusiness.com".
Ask all your friends, family, and customers to watch the video on Youtube and make comments and click on "like." The more people interact with your
video, the better the ranking for your video.
Try to keep it simple and really show your personality. Don't worry too much about making it go viral.
Uploading and Distributing Your Videos
Upload and distribute your videos to as many video sharing sites as possible. Besides Youtube, there are sites such as Dailymotion.com, MySpace, Motionbox.com, Video.google.com, Video.Yahoo.com, Vimeo.com, etc.
Next, you should bookmark and link to the URL of your video using social bookmarking, web 2.0 properties, and blogs. The more links you get, the higher your video would rank on Google.
By promoting your videos across all these different channels, it helps your business to get huge exposure and drive hordes of traffic to your website.